Otter Creek Properties
Real Estate Solutions for Fellow Investors
About
Our commitment to excellence starts with treating you and your transaction with the highest levels of professionalism and care. We know the busy lifestyle that real estate investors endure and we work hard to make the process of selling and buying a quick and easy one.
As one of the most trusted property sources for real estate investors in the area, we are humbled that so many choose us to join them on their journey. Let us lead the way and earn your business today.
Otter Creek Properties is dedicated to the development of successful buying and selling solutions for real estate investors. Our expertise in all aspects of real estate allows us to have a large inventory of properties for sale at prices that are tailored to meet your goals.
We specialize in purchasing homes at a fair price and passing those savings on to other investors like you. Our team works hard to ensure that the purchase and sales processes are as easy as possible, while providing you with the most up-to-date details as our transaction develops.
With a wealth of experience in buying and selling homes under our belts, our team and network of real estate experts have handled some of the most complicated real estate transactions on the market today.
Whether you're looking to sell your existing investment property or are looking to buy a new investment, our goal is to make the buying and selling process an easy one and find a solution that works for both of us.
We approach every transaction with the utmost professionalism and care and are dedicated to closing your transaction in the way that's best for you.
Featured Property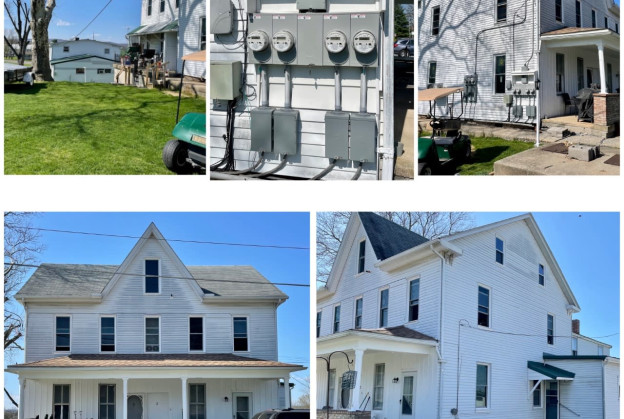 20 Loop Rd
Lititz, PA
12 unit with 3 separate buildings on 2 acres in the beautiful & charming town of Lititz, PA. 2017 voted America's most charming small town in the USA. Home of Rock Lititz, a company specializing in design, audio, lighting, and production of stages indoor & outdoor. Entertainers come to Rock Lititz who are getting ready to go on tour to practice with a true concert experience indoor & outdoor. Famous names such as the Rolling Stones, Madonna, Taylor Swift, Usher, U-2, Katy Perry, Aerosmith, Maroon 5, and Lady Gaga just to name a few. Lady Gaga liked Lititz so much, that she even bought a home here. Located on 96 acres, they have a hotel, bar, conference rooms, and music vendors on site. Lititz is also home to the prestigious technician swiss watch making college. The Wilbur chocolate factory is also a popular stop. There are many various types of businesses in Lititz creating countless job opportunities. Located conveniently between Lancaster, Harrisburg, and Lebanon. Lititz Real Estate is highly valued with it's location, business opportunities, and quality of life Lititz Real Estate will continue to grow in value. *Elizabeth Twp *2 Acres *Room to build storage units for your tenants, which is a great way to increase income with minimal expenses since you already own the land *Road frontage on Loop Rd.+ Route 501 *Located in a lovely quiet residential area *Off Street Parking *Resident Live-in manager: in Lieu of rent, they take care of snow, grass, minor maintenance, showing the apts., tenant issues, etc. We take initial calls, qualify them, then residential manager shows the apartments. The buyer fills out and pays an application fee online *Metal roofs *All windows replaced except for 6 on the B building. Seller to give buyer a $2,000 credit to finish the windows *Major tree trimming completed *All units remodeled except C-2, who is a long term tenant. She was there when we bought the property *All units have 100 Amp electric services *3 wells on the property with new commercial pressure tanks & new ultra violet light systems, filters, new treatment system *Modern sand mound septic system. We have tanks pumped once a year as preventative maintenance *B-4 has propane heat *B- 1, 2, & 3 have oil heat with hot water radiators *C-1 has oil and hot water radiators + electric baseboards *C-2 has oil with hot water radiators *A-1, 4, & 5 have electric baseboards *A-2 has oil and hot water radiators *A-3 has electric baseboards heat, and a heat pump mini split system w/ CAC *Huge upside to this property is we have done all the heavy lifting for you. Now you can sit back and collect rent. Plus all rents are approximately $75 to $125 too low. Increase the rents and automatically increase the value of the property *Currently enjoy a 9.3 % cap rate *Raise rents $90 each, increase your return to a 10.4% cap rate *Tenants ONLY pay heat + electric  *$998,000
Our Services
Testimonials
I bought my last investment property through this company! They were fast and fair and very good at communication so we always knew where we were in the buying process. I highly recommend working with them!
I highly recommend working with this company! The sale of my home was simple and fast. They were very good at communication so we always knew where we were in the selling process. Top notch!
I have been working with this company for years now! With hard work and timely communication, they made sure that it was a simple transaction. Highly recommend!
Recent Posts
Photo Tips For A Standout Property Listing

How do you get your listing from good to great? You take your shot… And then you take it again. I'm talking about pictures! As a real estate investor, I'm always surprised by the photos that agents, or other investors, choose to include with their property listings. Dirty mirrors, pet food bowls, and broken swing […]

What's Your WHY?

Before finding your why, building a business is just work… But once you find your WHY, the work has purpose. Around here, we talk a lot about finding freedom. For some people, freedom is their why. They just want to be free of many different things… their job, their boss, their time deficit, their financial restrictions. But for most people, finding freedom […]

What is a Home Owner's Association (HOA)?

A home owners association (HOA) is an organization that is put together by a real estate developer when planning a new development project. This management organization sets the rules and regulations of a community and is in charge of the upkeep of common areas within a development such as pools or landscaping. As a real […]